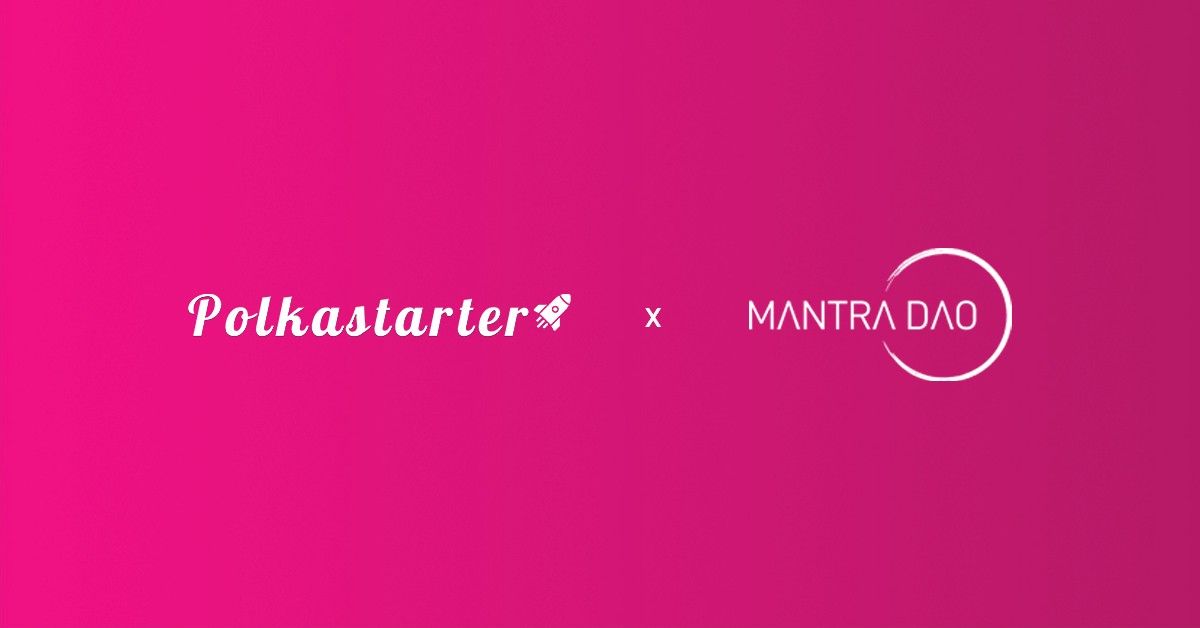 Polkastarter x MANTRA DAO Partnership Announcement
MANTRA DAO embraces the decentralized and interoperable future with Polkastarter.
MANTRA DAO embraces the decentralized and interoperable future with Polkastarter.
Berlin — 22 Sep. 2020
Polkastarter is taking another bold step towards building a decentralized and interoperable future by partnering with MANTRA DAO (OM), the visionary community-governed DeFi platform focusing on staking, lending, and governance. At Polkastarter we believe in the power of the wisdom of the crowd to create a transparent community-governed decentralized ecosystem. These shared values are why we are proud to announce our strategic partnership with MANTRA DAO.
"We feel a sense of kinship with MANTRA. We both seem to have gone through the same fundraising experience and identified several possible improvements in this process. We both are focused on rapidly iterating on a product that primarily delivers value to its community. We both are hyper-focused on making simple-to-use interfaces and token economies. This approach really fills a gap in the Polka ecosystem." —Daniel Stockhaus
Potent force for positive change
Our shared belief and trust in each other's teams is the key to building mutual sustainable growth and a prosperous, dynamic community that spans across multiple chains. MANTRA DAO reached the #1 Trading Volume on Uniswap on August 19, proving it to be one of the highest in-demand projects on the DeFi exchange. What their experience also showed us is that users often find it difficult to get good pricing on the tokens they're really interested in on Uniswap. Polkastarter hopes to alleviate this common pain point in today's market by offering a permissionless DEX built for cross-chain token pools and auctions.
The cooperation between the two projects aims to promote wider use of MANTRA DAO's platform by giving OM token holders a chance to participate in Polkatarter pools. Proof-of-Stake projects that raise funds using Polkastarter will immediately have access to a top-flight validator to secure their chain. In general, two of the fastest growing communities in the emerging Polkaverse stand to benefit from this collaboration.
The decentralized duo aim to be a force for positive change. These two projects work towards providing wider access to DeFi products to empower users. MANTRA DAO gives financial control back to the people to store and grow wealth. Polkastarter enables decentralized projects to raise and exchange capital quickly and efficiently. The long term goals of OM and POLS token holders are to make it simpler and cheaper than ever to build platforms within the looming disruptive protocol, Polkadot. We both believe that Gavin Wood and the Web3 Foundation have a long-term vision that is still in its nascent stages of development. We will do everything in our power to help build towards this decentralised and interoperable future.
Polkadot will Supercharge Blockchain Innovation
Both Polkastarter and MANTRA DAO seek to amplify the game-changing and problem-busting advantages that Polkadot has in store to totally alter the way users worldwide experience DeFi. Legacy blockchain technology throws up hurdles that prevent mass adoption by businesses, investors, and users. The current situation is simply not scalable enough. Data and network users are completely siloed in an increasingly crowded and competitive crypto landscape.
However, the rise of Polkadot gives the blockchain industry an opportunity to change its tenor from insufferable tribalism to timely collaboration. By using Polkadot, the next-generation blockchain protocol, Polkastarter will offer unparalleled smooth interoperability between various networks making cross-chain swaps intuitive and providing higher throughput for faster and cheaper transactions, all while staying connected to the Ethereum Network and other blockchains for liquidity. These advances will help make transactions effortlessly, securely, and instantly leading to wider adoption on a global scale.
"We have seen the rise of Decentralized Exchanges and AMM's over the past few months, mainly being played out on Ethereum, and we are excited for this to move over to interoperable DEXes on Polkadot. MANTRA DAO is thrilled to join with Polkastarter as a strategic partner and investor, as we continue towards our goal of creating cross-chain DeFi products for the Polkadot ecosystem." — JPM
We'd love to answer all your questions during a Polkastarter AMA and a MANTRA DAO AMA on our respective Telegram channels. There will be exclusive news and surprises for the community, so stay tuned for more information!
About Polkastarter
DEX built for cross-chain token pools and auctions, enabling projects to raise capital on a decentralised and interoperable environment based on Polkadot.
Cheap transactions, secure ultra-fast swaps, user-friendly design and the possibility to buy and move assets between blockchains.
Website | Lightpaper | Telegram | Medium | Twitter | LinkedIn
About MANTRA DAO
MANTRA DAO is a community-governed DeFi platform focusing on Staking, Lending, and Governance.
MANTRA DAO leverages the wisdom of the crowd to create a community-governed, transparent, and decentralized ecosystem for web 3.0.
Built on Parity Substrate for the Polkadot ecosystem, MANTRA DAO gives financial control back to the people to store and grow wealth together.
Website | Whitepaper | Telegram | Medium | Twitter | LinkedIn
Polkastarter Blog - Latest Polkastarter News & Updates Newsletter
Join the newsletter to receive the latest updates in your inbox.
---