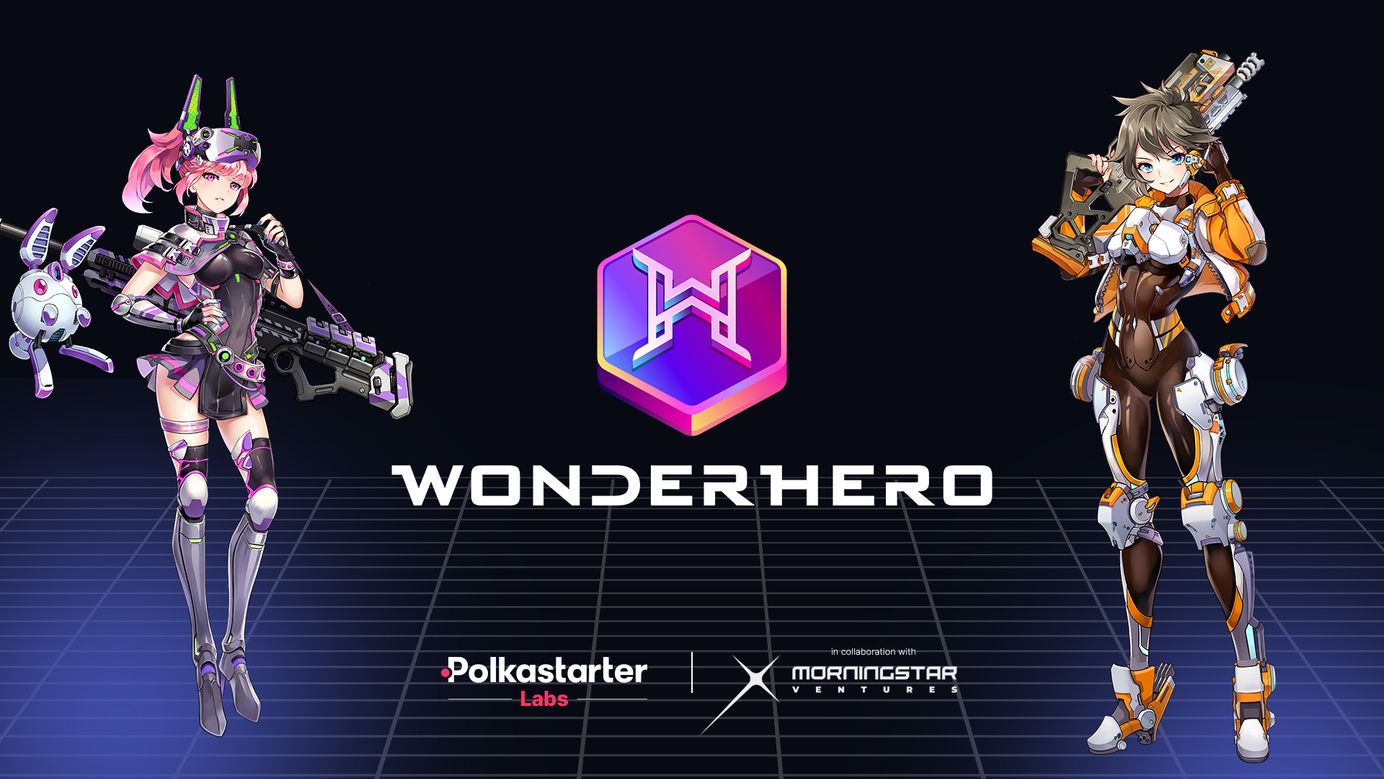 Polkastarter reveals Polkastarter Labs: first incubation project announced.
Teaming up with Morningstar Ventures to co-incubate the first Labs project and support the next wave of crypto innovators.
Polkastarter's very first incubation is official. We are beyond excited and proud to have WonderHero as the first project to receive full-fledged support from the newly-incepted Polkastarter Labs, a vehicle designed to provide crypto's most groundbreaking projects with all the tools they need for success.

What we do for our projects, already being borderline incubation, is a key differentiator of Polkastarter and with Polkastarter Labs, we are taking this up a notch. With the incubation, the big step up is that Polkastarter will now be fully responsible and accountable, translating into a much deeper involvement with the project in question.
For our first incubation, we are teaming up with a familiar face - Morningstar Ventures, who have been working with us throughout the setup of Polkastarter Labs, helping us build from the ground up.
Perfectly in line with our latest initiative, Polkastarter Gaming, WonderHero is a mobile NFT play-to-earn game for iOS and Android. It is a turn-based role-playing game (RPG), where players can collect heroes, participate in RPG combat and earn tokens for the battles they enter.
By becoming the first official incubation project of Polkastarter Labs, WonderHero will get enhanced access to Polkastarter's expertise and network, as well as support on various fronts. More on that below.
'This is a pivotal moment in the development of WonderHero and for our team as a whole.  WonderHero's rich team background as well as its vision and mission clarity made it a right fit for Polkastarter Labs. Being chosen as the first project to be officially incubated means a lot for us and we can't wait to roll up our sleeves and get busy in the lab with Polkastarter. Something is telling me this will prove to be one of the best business decisions we've made to date and help establish WonderHero as a leader in the blockchain gaming space. We fully trust Polkastarter and are super happy to have them as a partner. '

- Ethan Ng, CEO at WonderHero
Stay up to date with WonderHero:
---
What is Polkastarter Labs and what does project incubation mean?


Polkastarter Labs acts as the investment arm of Polkastarter and functions similarly to a startup incubator, providing early-stage projects with far-ranging support on both the business and tech side. The offering is split into two parts - pre-IDO and post-IDO.
More specifically, Polkastarter Labs provides the following in the pre-IDO part:


Mentorship. Leveraging ours and our partners' wide expertise in the industry, we give you the ultimate blueprint to succeed in the turbulent crypto waters. Includes advice on tokenomics, listing, sensitive timings and other important aspects.

Investment & follow-on funding. Hands-on investment to get the ball rolling and introductions to leading investors and funds to extend your runway. Secure the bag.

Marketing & branding. Everybody needs a lil' bit of that special sauce - we give you a herculean dose of that for optimal market positioning, with a spoonful of community building strategies for that extra kick and to make your brand internet culture-proof.

Market access & networking. Get to know some of crypto's heavyweights, including market makers, agencies, projects, exchanges and other relevant stakeholders. You name them and we probably know them.
Post-IDO, we help projects with the following:


Technology & tokenomics. Receive fast-track support to top platform integrations and get feedback on your staking programs, liquidity mining and other tech-sensitive matters.

More marketing and market access. Thought we'd stop doing that? Wishful thinking.

Scaling. Launching is one, scaling is another. Some of the strategies we previously utilized must now be revisited and revamped to ensure you're on the rightest of growth trajectories.

Alumni network. Mingle with the rest of our Polkastarter teams, get together, create and build together as we near 100 total alumni.

Open Office Hours. Call us anytime, any day of the week - we've got your back! Periodical check-ins will ensure you're on the right track and not taking unexpected turns into no man's land…
---
We are simply thrilled to begin this new chapter in the development of Polkastarter and support the most innovative projects in the space together with Morningstar Ventures.

This is but the first of many incubations and we are working on way more. Make sure to keep an eye out on our socials to be the first one to know what comes next!
---
About Polkastarter
Polkastarter is the cross-chain, fully decentralized launchpad to launch new ideas in blockchain and digital assets. With a best-in-class curation process and market access, we select the most innovative projects in the space and offer them long-term support after their IDOs.
With the help of Polkastarter, crypto projects can increase their reach, grow their communities and receive support from industry-leading experts. IDO participants, on the other hand, are offered an opportunity to invest in a secure and compliant environment, as well as participate in IDOs not solely on Ethereum, but such on Binance Smart Chain and Polygon as well.
---
Connect with us and learn more about Polkastarter
Website | Twitter | Discord | Telegram | Instagram | Newsletter
Polkastarter Blog - Latest Polkastarter News & Updates Newsletter
Join the newsletter to receive the latest updates in your inbox.
---