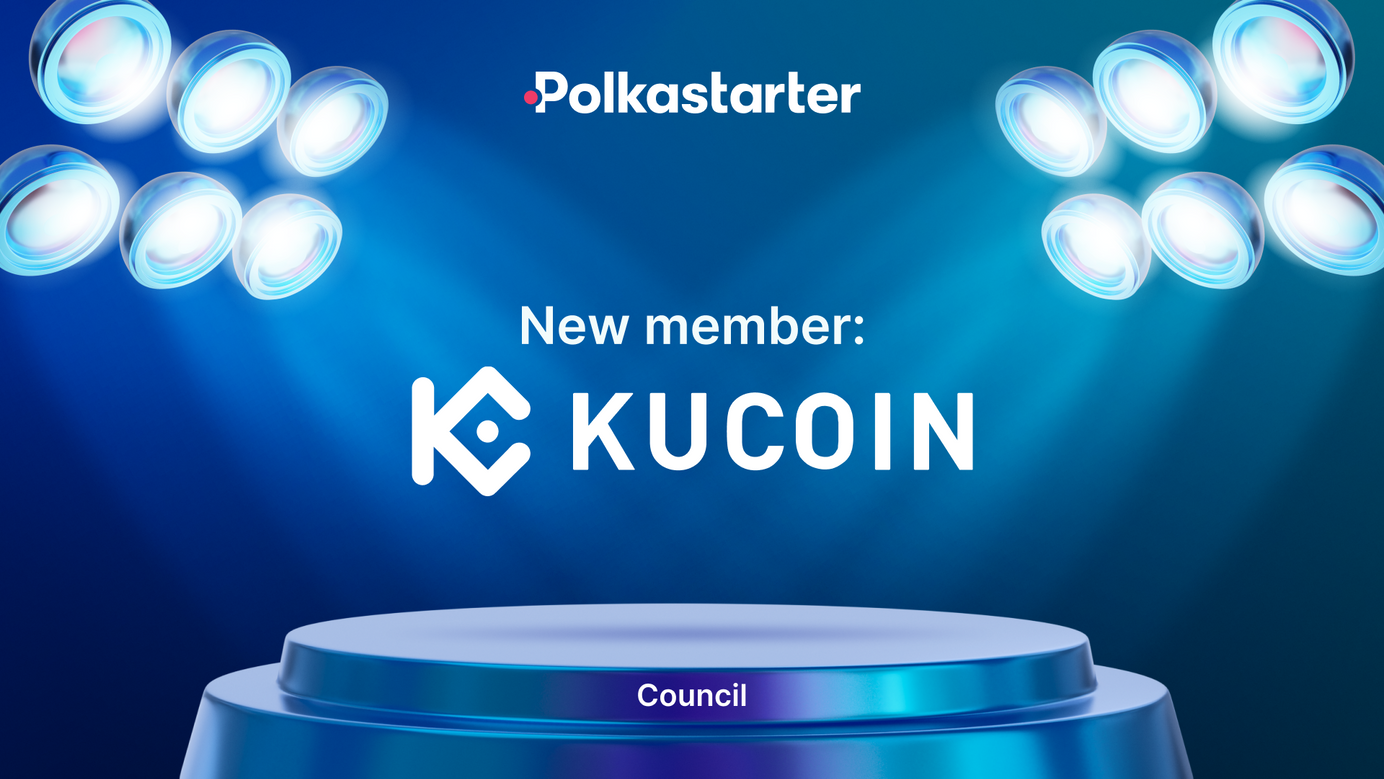 KuCoin Joins the Polkastarter Council!
Leading global cryptocurrency exchange KuCoin joins the Polkastarter Council.

Today, we are proud to announce that KuCoin, an IDG-backed crypto exchange, has joined the Polkastarter Council to further hone the selection process and quality of IDO participants.
The Polkastarter Council is an independent arbiter body of companies, projects, and individuals that participate in the selection process for Polkastarter IDOs. The Council is a cross-section of the most talented and experienced names in the crypto industry, and they play a critical role in the caliber of projects raising through Polkastarter.
Known as ' The People's Exchange', KuCoin is a leading global cryptocurrency exchange offering multiple cryptocurrency trading-related services including spot trading, futures, staking, and KuCloud. Boasting over 760 million total trades since launching in 2017, KuCoin has paved the way for global blockchain adoption by creating a user-friendly platform for buying, selling, and trading the world's leading tokens - including a newly-released NFT marketplace. In April, 2021, KuCoin launched KuCoin Labs which focuses on crypto analysis and research to find the next crypto gem and empower the development of early-stage projects.
"KuCoin is proud to join the Polkastarter Council as mutual supporters of early-stage projects. So much of the innovation in the crypto space is driven by young, innovative ventures. Polkastarter is at the forefront of identifying and accelerating those products to widespread adoption. We at KuCoin are joining the Polkastarter Council to continue propelling these projects forward." -- Johnny Lyu, CEO at KuCoin Global
"KuCoin brings to the Polkastarter Council unmatched expertise in global crypto trading. Polkastarter is a multinational project with a global user base. We are pleased to welcome onto the council a team that has prioritized international growth and blockchain adoption since day 1. A team that has created a platform with a diverse and dispersed community of traders." -- Daniel Stockhaus, CEO Polkastarter
KuCoin joins existing Council members: Animoca Brands, Huobi, Polygon (prev. Matic), OKEx, Alchemy, Signum Capital, NGC Ventures, Morningstar Ventures, Digital Finance Group (DFG), AU21 Capital, Astronaut Capital, Eric Wang from Parity Technologies, and Moonrock Capital.
About KuCoin
KuCoin is a global cryptocurrency exchange for numerous digital assets and cryptocurrencies. Launched in September 2017, KuCoin has grown into one of the most popular crypto exchanges. It currently provides Spot trading, Margin trading, P2P fiat trading, Futures trading, Staking, and Lending to its 8 million users in 207 countries and regions around the world. In 2018, KuCoin has secured $20 million in Round A funding from IDG Capital and Matrix Partners. In 2021, KuCoin was selected as one of the Best Crypto Exchanges by Forbes Advisor. For more information, please visit www.kucoin.com
Media Contact KuCoin: media@kucoin.com
Website | Twitter | Telegram | Reddit | Instagram
About Polkastarter
Polkastarter is the fully decentralized protocol for launching new ideas. Our curation process and industry access enable us to offer the best new projects in the blockchain and digital assets space. With Polkastarter, decentralized projects can raise awareness, build a loyal community, and receive long-term support. Users of the platform will be able to participate in a secure and compliant environment, and use assets both in and beyond the current ERC20 standard.
Media Contact Polkastarter: press@polkastarter.com
Polkastarter Blog - Latest Polkastarter News & Updates Newsletter
Join the newsletter to receive the latest updates in your inbox.
---