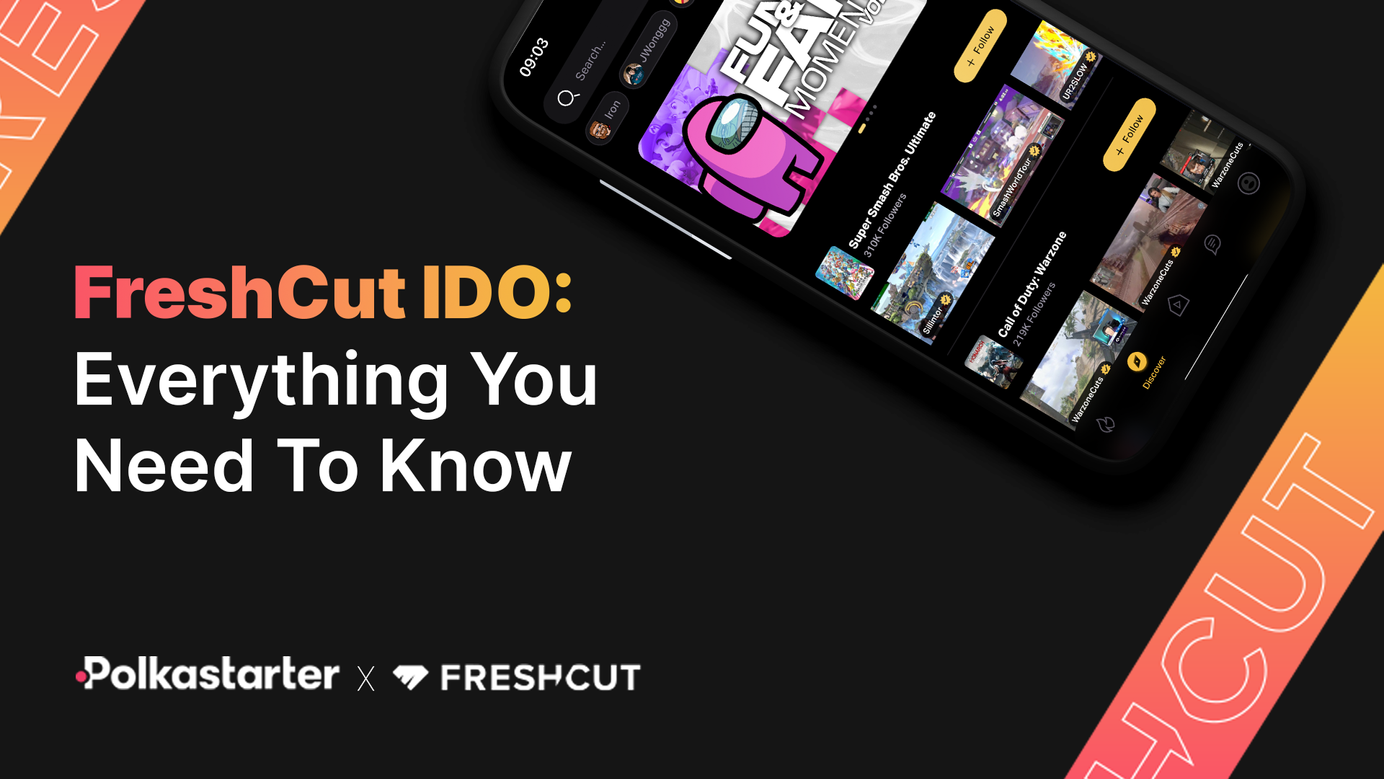 FreshCut IDO: Everything You Need To Know
Get the details right!
Having your best interest at heart, we're implementing a new maximum allocation per POLS Power tier system for FreshCut IDO on May 10 at 1 PM UTC.

Everyone who passed KYC will be able to participate in the $FCD IDO on Polkastarter on May 10th at 1PM UTC. You will have received an email from [email protected], make sure to check your spam folder.
View the addresses that passed the KYC process from FreshCut Medium blog here.

Details about the FreshCut IDO:
📅 IDO Date: May 10th, 1 PM UTC
🔗 Chain: Polygon
🏷️Price: $0.12/ $FCD
✅ No Vesting = 100% unlocked at TGE (on May 12, 2022)
✅ Max allocation based on POLS Power tiers (See below)

Now, let's answer some questions regarding the IDO, allocation, how it works and how you can prepare best for the FreshCut IDO.


How does the allocation per POLS Power Tier System work?

To simply put, the more POLS Power you have, the more $FCD allocation you can get to buy if allowlisted. Here is a breakdown of POLS Power tiers for the FreshCut IDO:
Tier 30,000+ Pols Power: $800
Tier 10,000+ Pols Power: $450
Tier 3000+ Pols Power: $300
Tier 1000+ Pols Power: $150
Tier 250+ Pols Power: $75

Do applicants get guaranteed allocation?
No. Only users who passed KYC will be able to participate in the $FCD IDO on Polkastarter.

The sale will be on a first come first serve basis so make sure you prepare $MATIC in advance and show up to the sale on time on May 10th at 1 PM UTC. To learn more about how to participate in a Polygon pool, please read our dedicated article.
How will this affect your winning chances of FreshCut?
With the new system, there are more available allowlist spots, therefore higher winning chances. Meanwhile, more participation means more engagement for the IDO project, benefiting all parties involved.

Which projects are using this system?
Currently, we are implementing this new maximum allocation system per POLS Tier for FreshCut IDO only.

For other announced IDOs (CyberTrade, Wonderman), the maximum allocation will remain the same as announced.

For future IDOs, the decision on implementing different or the same allocations for every POLS Power tier will be determined on a project by project basis. Meanwhile, we value your input. After the IDO we will look at the community feedback and make a decision for what is to follow.
👉 To learn more about FreshCut, click on the dedicated project page.

---
About FreshCut

FreshCut is a web3 short-form gaming content platform and community. It's a platform that combines short-form gaming videos and a community token, FreshCut Diamonds ($FCD), to redefine creator-fan engagement and showcase top-level gaming experiences.

To learn more about FreshCut, check out the following links:
Website | Twitter | Discord | Telegram | Instagram


About Polkastarter
Polkastarter is the leading decentralized fundraising platform enabling crypto's most innovative projects to kick start their journey and grow their communities. Polkastarter allows its users to make research-based decisions to participate in high-potential IDOs, NFT sales, and Gaming projects.
Polkastarter aims to be a multi-chain platform and currently, users can participate in IDOs and NFT sales on Ethereum, BNB Chain, Polygon, Celo, and Avalanche, with many more to come.
---