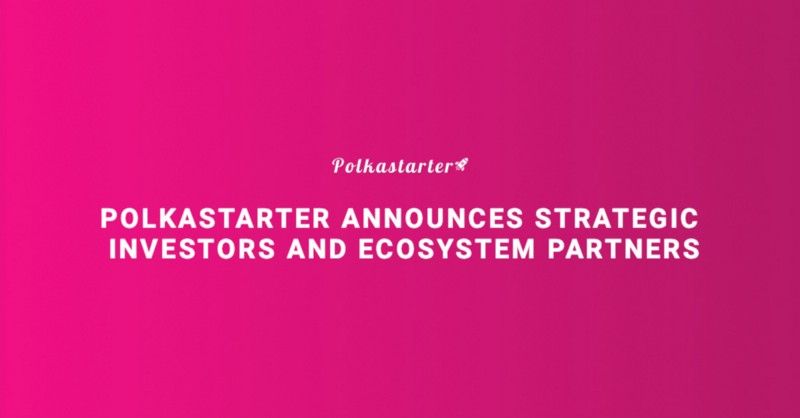 Announcing Polkastarter Raise of $875,000 to Launch Polkadot-Based DEX for Cross-Chain Token Pools
Backers include Moonrock Capital, NGC Ventures, Signum Capital, Astronaut Capital
Backers include Moonrock Capital, NGC Ventures, Signum Capital, Astronaut Capital
Polkastarter with more than $20 million in private sale allocation requests
Polkastarter is building a DEX for cross-chain token pools
We are excited to announce that Polkastarter has successfully raised $875,000 in seed and private sale rounds backed by Moonrock Capital, NGC Ventures, Signum Capital, Astronaut Capital and many other strategic backers, in a process which took more than 2 months to complete from seed to private-sale.
The +30x oversubscribed round saw more than $20 million in interest, showing the overwhelming demand for non-Ethereum based DeFi and DEX solutions that are scalable and provide lower fee structures.
We want to thank all 2,500 interested parties who submitted the allocation request form. We released this form only two weeks ago and saw overwhelming participation that led to a total of $24,508,928 in allocation requests.
From a strategy point of view, we had to make critical choices and tried to follow this strategy:
Design small allocations per contributor to enable more participants in every round, to avoid concentrated holdings in the hands of a few whales.
Give allocations to influential funds committed to helping us grow our communities in key markets like Europe, China, Vietnam, India, Singapore and other emerging markets
Give allocations to strategic investors that can bring long-term technical, marketing and community-building value to Polkastarter
Token Sale Key Metrics
Seed sale price: $0.0125 USD
Private sale price: $0.025 USD
Uniswap listing price: $0.05 USD
We are now preparing our listing on Uniswap and aim to launch POLS in late September. As a community-first project, we hope to build a wide participation which includes communities from around the world. If you want to get updates please join our official telegram channel, our announcement channel and follow us on Twitter.
About Polkastarter: Polkastarter is a DEX built for cross-chain token pools and auctions, enabling projects to raise capital on a decentralized, permissionless and interoperable environment based on Polkadot. With Polkastarter, decentralized projects will be able to raise and exchange capital cheap and fast. Users will be able to participate in a secure and compliant environment and to use assets that go way beyond the current ERC20 standard.
The future is decentralized. The future is interoperable. The future is Polkastarter.
Polkastarter Blog - Latest Polkastarter News & Updates Newsletter
Join the newsletter to receive the latest updates in your inbox.
---